Cortez, CO
After a one night stay in Ridgeway State Park we took advantage of a nice day and headed south to Cortez to avoid the rain predicted for the next couple of days. Since we would be going up and over a couple of high mountain passes (Lizard Pass is over 10,000′) again, we decided to have Pam drive the Jeep instead of towing it with the motorhome. This also allowed her to get some great photos of the high mountains and the beautiful colors of the Aspens all around us.
We knew our friend, Lewis, was staying with his friends Dave and Sue in nearby Dolores, so the first thing we did after setting up in Westview RV Park was to head over for a visit.
The next day Dave and Sue moved their motorhome from the park in Dolores to the site next to us in Cortez. That made it much easier for us to get together and for Lewis to come over for a visit. For some reason he loves hanging around in our motorhome.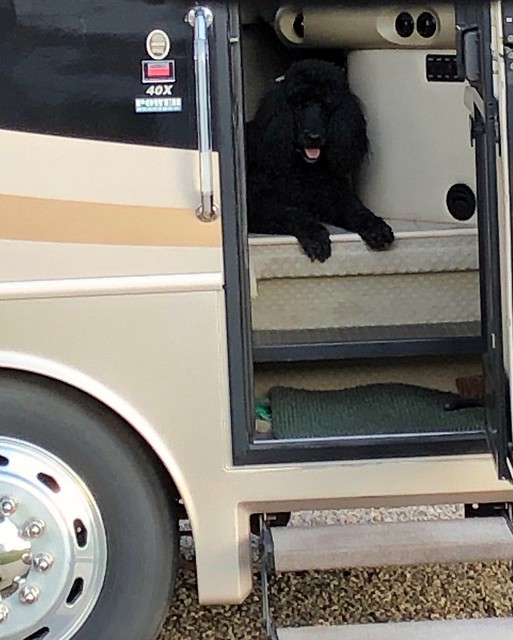 That night the predicted rain came, with snow at the higher elevations. We invited Dave and Sue to join us the next day for a ride back over Lizard Pass to enjoy the views of the snow covered mountains and for a visit to the beautiful little ski town of Telluride.
Telluride is surrounded by high mountain peaks that are especially beautiful when covered with a fresh snowfall.
We enjoyed spending a couple of days with Dave and Sue before they headed back into Arizona on their way to their new home in Wickenburg. We did a bit of exploring the area with them and went out to dinner in Cortez but forgot to get any photos.
After they left we packed up and headed about 80 miles south into New Mexico for a return visit to Farmington. We stopped there about a month ago at the beginning of this trip but it was still too hot to do a hike the nimble hiker had on her radar. Temperatures have moderated since then so we decided to circle back for a couple of days.
More on that later . . .