Kanab, UT
After a one night stay in Bluff, UT we had a 240 mile drive to our  next destination, Kanab,UT.  We visited Kanab last May but still have a couple of things we want to do or see.
We left Bluff and headed south on US 163.  This route takes you past two beautiful areas in Utah and Arizona.  The first is Valley of the Gods, a scenic sandstone valley that has rock formations with tall, reddish brown mesas, buttes, towers and mushroom rocks.  The Valley of the Gods can be toured via a 17 mile gravel road that winds around the formations, many of which have been given names.
About 30 miles south of the Valley of the Gods we drove through the beautiful, iconic Monument Valley.  One of the first things you see as you enter the area from the north is the famous scene from the movie Forrest Gump.
We turned west in Kayenta, AZ and drove another 125 miles to Page, AZ.  We crossed over the Colorado River next to the Glen Canyon Dam, which forms Lake Powell.
Lake Powell is the second largest man-made reservoir by maximum water capacity in the U. S. behind Lake Mead.  However, due to high water withdrawals for human and agricultural consumption, and because of droughts in the area, Lake Mead has fallen below Lake Powell in size several times in the last 20 years in terms of volume of water, depth and surface area.
From the dam it was a 75 mile drive to Kanab.  Along the way we passed sections of the many vermilion cliffs in this area.  The cliffs are made up of deposited silt and desert dunes, cemented by infiltrated carbonates and colored by red iron oxide and other minerals, particularly bluish manganese (as most of you well know!).
After a long drive, made considerably longer by a 30 mph headwind we had to fight almost the entire way, we arrived at J and J RV Park in Kanab and set up in our assigned site.
The next day we did a hike that we missed during our previous stay here in May.  The Squaw Trail begins on the north side of Kanab next to Hamblin Park.
The trail goes up 800 feet in just over a mile and a half.  It is not a real difficult hike but the elevation gain and steep climbs in some sections gives a hiker a good workout.  But the great views of Kanab below make the effort well worth it.
Hamblin Park has four ball fields located around a central building.  As we drove into the parking lot there were many vehicles parked there and the ball fields were filled with tents.  When we gained enough elevation on the trail, we got a great view of the tent city on the ball fields but thought it strange that there were no people around.
A little research revealed what was going on.  The Grand Circle Trailfest is a three day/four night event for runners.  On each of the three days runners are shuttled from Kanab to a different location for a race.  On day one they went to Zion National Park for a 13 mile race.  Day two was another 13 mile race, this time at Bryce Canyon National Park.  On day three they went to Page, AZ for an 11 mile run along the Colorado River at what is called Horseshoe Bend.  The event is run by a company called Vacation Races, who provide everything needed, including food, a shower trailer, and the tents.
Our trail continued up through a series of switchbacks until we could no longer see the tents in the ball fields.  But the views to the south were still impressive.
At the top there is a small bench where we enjoyed lunch and a nice view to the north.  But a couple of other hikers were there and the conversation distracted us (not a difficult task) and we forgot to get any photos.  But the best views are on the trail going up and back down anyway.
For the second day of our two day visit to Kanab we checked out two nearby places, one new to us and the other a spot we have visited before.  The first spot was the Belly of the Dragon.  Although the name implies something very exciting, it is really just a large drainage tunnel for the upper canyons that feed into the nearby North Fork River.  But it is a really cool drainage tunnel!
The tunnel is only about a tenth of a mile long, but you can't see the other end from the entrance.
If you hike four or five miles up the canyon there is suppose to be a nice slot canyon.  But the deep sand in the wash discouraged us from that adventure.
After checking out the tunnel we drove back through Kanab and headed east on US 89 for about 30 miles.  At that point we turned north and drove up a maintained dirt road a few miles to visit the ghost town of Paria.  There is not much left of the old town but that's not why we wanted to make a return visit.  What draws us back to Paria are the colorful rock formations that surround it.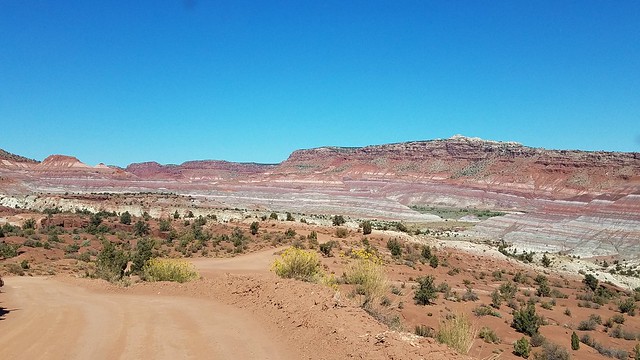 Well, this blog concludes our fall trek through Utah and Colorado.  We had planned to stop for a short time in Mesquite, NV to hike in the nearby Gold Butte National Monument.  But with temperatures in Mesquite still in the 90s we've decided to skip that for now and continue back to our home in Boulder City.  We don't have anything planned for a few months so the blog may be a bit quiet for a while, but we will definitely be back after the holidays.
But who knows what may arise between now and then?