Naco, AZ
Like many towns nestled along hillsides in the west, Bisbee has a large "B" located above the town on Chihuahua Hill.  During the day it looks a bit like it could use a fresh coat of paint, but at night it looks very nice as it is outlined in lights.
After reading Amanda's blog about their hike up to the top (Watsons Wander), we decided we needed to go up and check out the view.  We found a trail description online that would take us up the back of the hill past a couple of interesting sites.  The trail begins at the end of OK Street, which is the easternmost street in downtown Bisbee, paralleling Brewery Avenue.
After reaching the end of the road we found the trail on the right just before a gate.  We followed the trail up as it meandered to the top of what is known as Youngblood Hill.
Our first point of interest was a Buddhist Shrine that someone has built at a curve in the trail.
We continued up the trail headed for the cross that can be seen at the top of the rocks in the photo below.
This turned out to be a quite elaborate shrine made of whitewashed concrete sprawling  across a rock formation,.  A plaque attached to the construction attributes the work to "Adolfo D. and Mary Vasquez, May 1980."
The shrine contains a crucifix, a statue of Mary, a statue of Jesus, a cross made of horseshoes, and devotional bottle candles. A series of steps are built into a pathway around the structure.  No one knows precisely who built the shrine as no records of its construction exist.  Local legend has it that the many sacks of concrete mix needed for the work were hauled up a narrow path from the end of OK Street on mules.
From the shrine on Youngblood Hill we hiked down a very steep, rocky path as we headed for Chihuahua Hill nearby.
As we made our way down the steep path we came upon a shrine dedicated to Martin Luther King.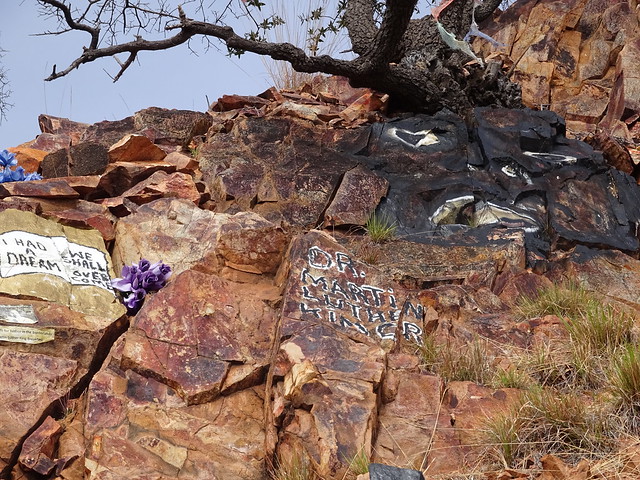 The reference to the Struggle for Justice in the Borderlands in the photo below refers to a breakfast held at a local church on MLK Day.
We made it down the steep trail from Youngblood Hill onto an unused Jeep road leading up to the top of Chihuahua Hill.
The top of Chihuahua Hill is covered with brush, but if you bushwhack through it, you can find great views of the pit mines and Old Bisbee below.
This hike is just over two miles over some fairly rough trail.  But the shrines along the way and great views from the top make it well worth the effort.