Hurricane, UT
After a day of rest provided by the nimble hiker, we headed east of Hurricane along Rte. 9 toward Zion NP.  In the little village of Virgin we turned north on Kolob Terrace Road.  We did a couple of hikes up this way during our stay in March of 2013, but Pam read a blog about hiking down into some slickrock (Life's Little Adventures) that sounded adventurous, so off we went.
From the Wildcat Trailhead the hike begins benignly over a flat trail through the trees.  The trail seemed familiar at this point and we realized that we had hiked this part during our previous visit while hiking to the Northpeaks.
After just short of a mile the trail divides into two options.  The main trail heads into Wildcat Canyon.  We turned right at this point and headed toward the Northgate Peaks.  After a short distance, we had another choice.  Instead of continuing on to the Northpeaks, we turn left and followed the cairns across the vast expanse of white slickrock that goes down into Russell's Gulch.  This trail eventually leads into a slot canyon called "the Subway" and requires a hiking permit from the Parks Service, but we were not going that far.
Much of this part of the trail is over steep slickrock.  Of course, the term "slickrock" is a misnomer, as it is not "slick" at all.  In fact, it allows you to play spiderman and climb right up or down the rock (carefully).
After going down over two miles into the gulch, we decided it was time to turn around and head back up the trail.  But were was the trail?
At one point we came across the little guy pictured below sunning himself (herself?) along the rocks.
We think it was a Western Diamondback Rattlesnake, but any snake experts out there may want to help us on the ID.
Once back at the Jeep we continued to drive north up Kolob Terrace Road.  During our previous visit the upper elevations were still covered with deep snow, so we couldn't get up the road above the trailhead.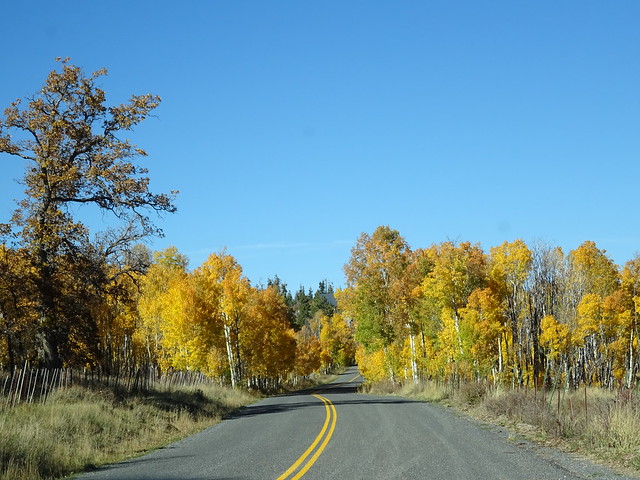 We stopped at the Lava Point Overlook for a great view of Horse Pasture Plateau below us and the main peaks of Zion NP in the distance.
A few miles further up the road we came to the Kolob Reservior where the road turns to dirt.  It was getting late in the day so it was time to turn around.
Like so many places in Zion, this hike presented a good variety of terrain and scenic views.  It is also in an area of the park that is not highly visited.  In fact, we didn't see any other people during our hike.
We have a couple of hikes left on our agenda here before moving south that we'll share with you.  More on that later . . .